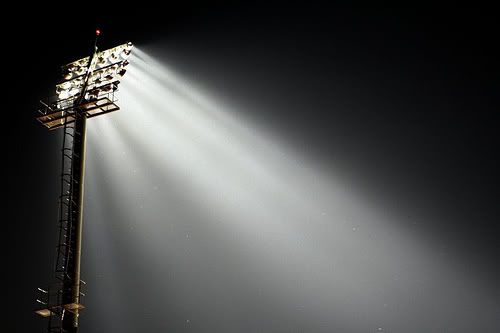 TCU will strap it on three Fridays this year, beginning with the Baylor Bears (September 2). Remaining NSGs (Non-Saturday Games) include SMU (September 30) and BYU (October 28). This continues a several year trend for the Frogs, who willingly play on odd days/evenings in order to wiggle their way on TV.
Other than teams compelled by their conferences to fulfill their TV contracts with ESPN (such as the ACC and PAC 10), most big time programs shun non-Saturday games. Do the Longhorns pay on Thursday or Friday night? Why would they? Do you see Ohio State chomping at the bit to play on Thursday or Friday night? What good would it do them? "Ohio State . . . who are they? I'd like to learn more about that program."
If you are a 17 year old kid that chews glass waiting for your chance to knock the crap out of the kid from the other side of the tracks on Friday night between the hash marks, you already know who Ohio State is. And this begs the question . . . if that is TCU's target market (getting in front of that 230 lb stud), why on earth would they be scheduling all these Friday evening games?
Said to a recruit also looking at rival schools, "Did you see us beat up on Baylor this year?"
"No, when was that?" responds the recruit.
"Friday, September 2."
"I'm afraid I missed that sir. I was playing a football game that night. That's when I ran for over 200 yards. The Longhorn scout was there. I didn't see you though."
"yeah, we couldn't come. We were down in Waco that night playing our game. But we'll have you out this Saturday. We'll be going against the University of Louisiana Monroe here at home."
"I don't know who that is."
"Okay then, how about next week. We take on Portland State in what will surely impress you in a display of clinical precision against a lesser opponent."
"Are your cheerleaders hot? How about the week after that? Anybody good? I'm looking for big time college football."
"Ummmm, well, SMU, but we'll be playing on Friday night again, so you'll have a conflict."
That sounds dreadful, and no one is reading it aloud to me.
No, Thursday night games, and now Friday night games, are left to football programs that dream of being so dominant that they have no need to fish for additional fans or artificially boost their viewership by giving someone like me something to do on a weeknight other than watch another interview with Brett Favre on why he unleft the game.
Who regularly plays on weekdays? Boise State, TCU, Nevada, Tulsa, Troy, Fresno State, etc. Let's put it this way. All teams who regularly appear on weeknights are kinda scary in their own scrappy way. But all those teams still a long way from being Ohio State, Penn State, Alabama, Texas, or USC. (say what you want about those programs). I'd throw Miami in the mix, but I'm not 100% certain they'll have a program by the time you read this.
Don't get me wrong; I'm thankful. Until TCU makes it to perennial elite status, regularly playing on weeknights means the athletic program still wants their name out in front; it means they are not satisfied with their status (in a good way); it means they care . . . maybe not about how the team is going to do on their exam the next morning, but at least they care about the quality of the football. Patterson has built a very stable program, but perennial elite status is the brass ring of college football, and we're still on the outside looking in. But at least TCU has elevated its status away from the dreadful Wednesday and Tuesday night slots. . . . Let Florida Atlantic have them . . . . "Hey, it's Tuesday; let's get the tailgating equipment out and raise a ruckus."