I can't tell you how much I would've enjoyed tweeting out the broom on Sunday afternoon. There's nothing like a picture that can recap a baseball series. But taking two out three games in Tempe should please just about every Frog fan. Despite their fielding errors, which Connor from House of Sparky accurately pointed out, Arizona State is a fantastic team...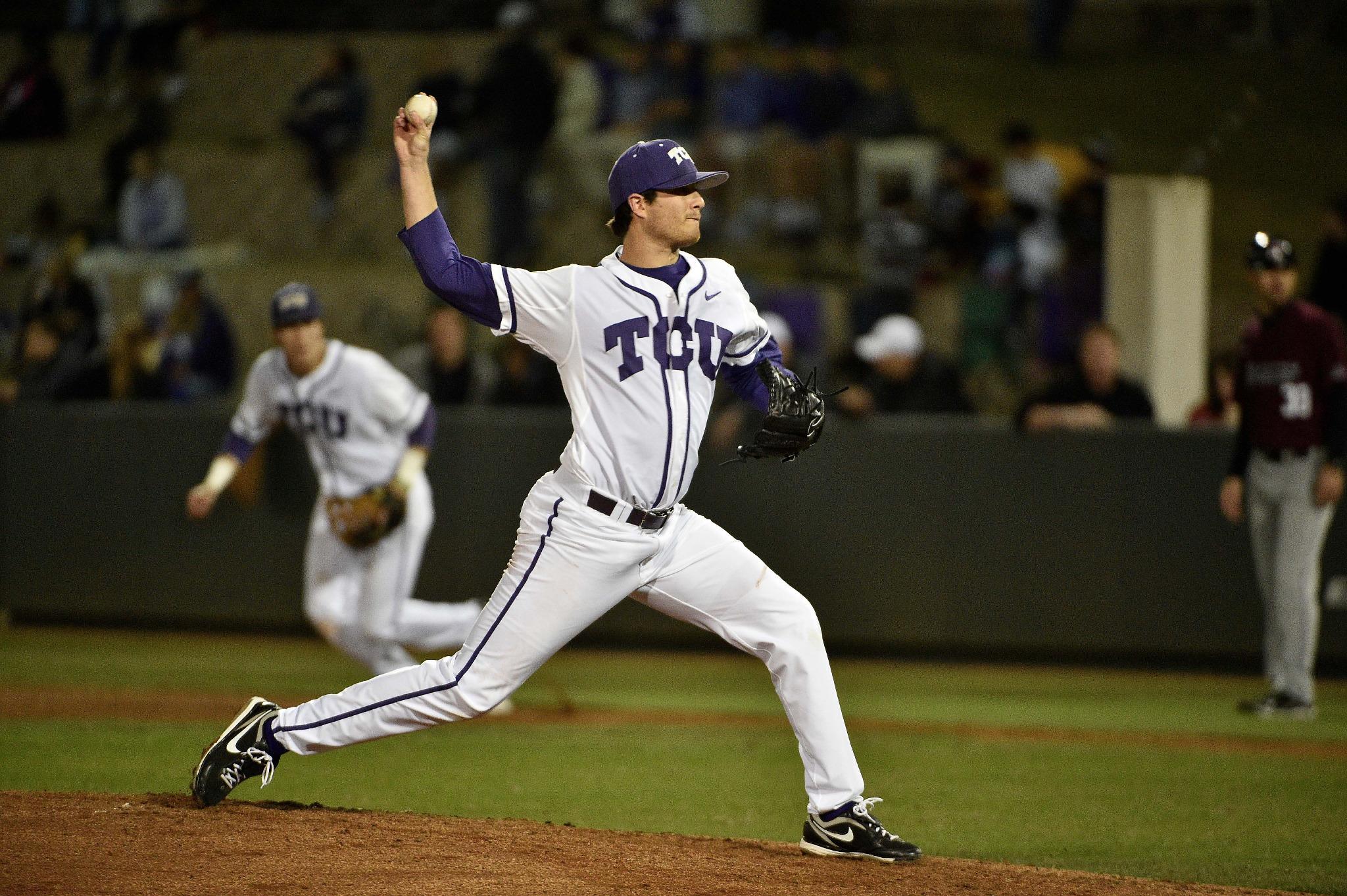 Great rotation, great bullpen, and solid hitting were all seen in TCU's first big test of the year before they get another couple of light warmups before the real gnarly stretch of Rice--USC--UCLA--Vandy takes place. The Frogs may have escaped the Grand Canyon State successfully, but it doesn't get much easier from here...
By the Numbers
.500-Derek Odell's OBP and the highest on the team. He's drawn 6 walks, this, plus his 9 hits (.360 BA) have proven Odell to be an ideal 3rd spot hitter. It's early sure, but Odell is bringing it at the plate like he was his freshman year.
5 players have 8 or more hits; with Cody Jones having the most (10). The balance of the bats is just simply better than last year and on this list are; Dane Steinhagen, Derek Odell, Cody Jones, Garrett Crain, and Keaton Jones.
Preston Morrison has given up 6 hits this year. He's walked 3, pitched 16 innings, struck out 8, and has given up 0 runs…;
0 is also the number of wins sophomore and 2014 wunderkind Tyler Alexander has this season…;
0.00 is also the combined ERA of Preston Morrison and Mitchell Traver
72% of Morrison's 88 pitches were for strikes on Friday
8 runs scored by Nolan Brown, who leads the team
6 RBIs by Zack Plunkett, who leads the team
.305, TCU's team BA ranks 47th Nationally
TCU's team ERA of 1.45 ranks 7th Nationally and their WHIP of .62, also ranks 7th Nationally.
Dane Steinhagen leads the team in BA at .429. Steinhagen has 7 fewer at bats than Cody Jones (3rd in BA at .357) and 4 fewer than Odell, 2nd in BA, but this kid can certainly swing it and I hope we get to see a lot of him this weekend against a salty Cal Poly team--who are at a surprising 1-6 on the season.
Speaking of records, at 6-1, TCU's actually about where they were record wise at this point last year. It was the March slump that begged the question as to whether the Frogs would even make a Regional. And that team, like this one now, beat really good teams in February including; Rice, and Houston. But judging how this current team is hitting, the March gaffe likely won't repeat again...
Week 2 Awards
MVP: Preston Morrison
Even if the TCU offense wasn't as evenly distributed as it currently is, Morrison would still be the MVP. The Big 12 Player of the Week didn't miss a step from last week; and not only that, he went a step further--and ended up with one of the finest outings of his TCU career. The unfortunate part about writing a recap on your phone, is that sometimes you're grinding too fast on a tiny keyboard. Morrison actually has 27 career wins, and not 29 like I said yesterday. But, only giving up 6 hits on the year and having yet to give up an earned run, it's pretty safe to say Morrison will get to 29 sooner rather than later.
To throw a complete game amid 88 pitches is pretty much unheard of in this day--and really, ever. Coaches get applauded, as they should, for pulling pitchers in the 5th inning when said pitcher reaches 100 pitches: so for Morrison to throw only 88 in 9 innings is pretty damn incredible. Even more incredible: nearly 72% of those pitches were for strikes. Should Morrison continue this kind of trajectory, the attention will start to pile on even more than it already is--as will the Greg Maddux comparisons. His performance Friday reminded me a lot of a showing Braves-era Maddux had in the 1997 against his former team, the Chicago Cubs. In that game, a complete game, Maddux finished with 76 pitches--63 were for strikes.
Morrison's career ERA, which continues to shrink, and not implode as these things tend to do naturally, is an indication of just how good competitive he is and will continue to be.
Honorable Mention: Mitchell Traver; 8 IP, 0 ER, and 6 SO in his first career start last Tuesday. Should Traver bring any of that here on out, he'll likely finish the season with 2 or fewer losses.
Honorable Mention: Evan Skoug; stats aren't terribly fancy as of yet. But Skoug is part bluechip, part grindhouse and made several key plays--especially in Sunday's game--and collected several key hits that kept TCU's series win alive...